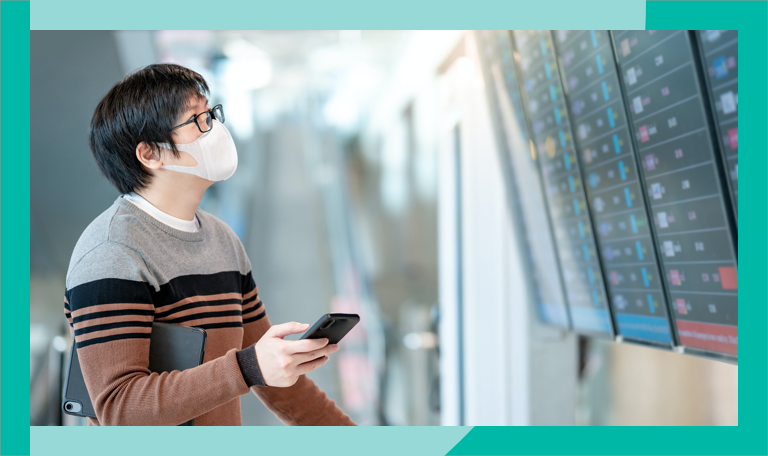 As borders begin to open, set up your business travel management for success
The COVID-19 pandemic saw global travel come to a screeching halt. For months, businesses had to put all business travel on hold. They were forced to make drastic changes in the way they operate, including digging deep into cash reserves just to stay afloat.
Why Business Travel Matters
As the number of cases begin to decline, many countries are slowly easing travel restrictions and reopening their travel corridors in stages. One of the first allowed to travel are corporate travellers, which is good news for just less than half of Global Business Travel Association (GATA) members indicated that they are considering business travel in the near future too.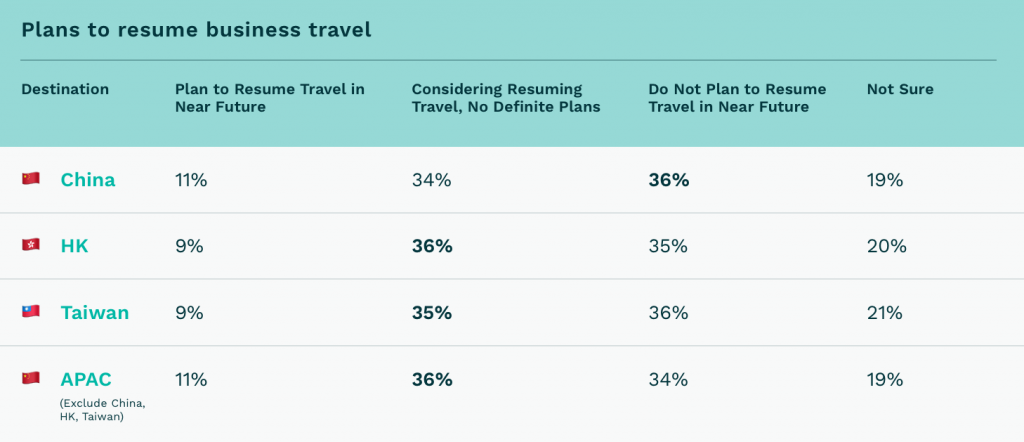 But is business travel still relevant and essential in this post-COVID era? Especially after how this pandemic has shown us that working from home and virtual meetings are viable options. As it were even pre-COVID, industries have had trouble deciding whether business travel is a "nice-to-have" or a "must-have". After all, why spend hefty amounts sending employees overseas, when online tools could be more cost-saving?
A report by Oxford Economics US reveals that business travel is significant in contributing to higher client retention, fostering networking opportunities and hence leading to positive business development. The survey also shows that for every dollar invested in corporate travel, companies experience a $12.30 return in terms of revenue.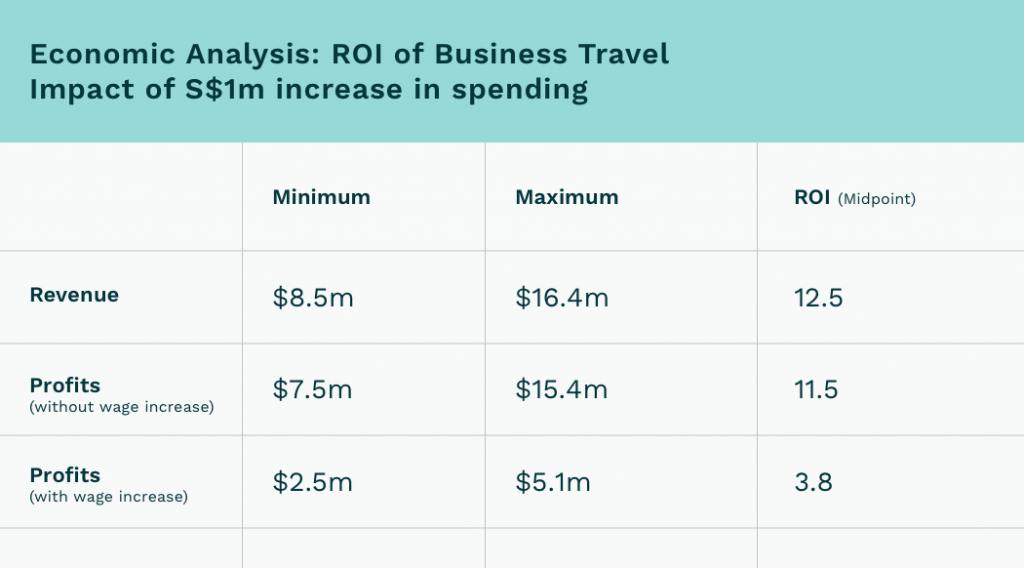 However, in today's tough environment, business travel—while crucial—can have extreme consequences on both personal and corporate levels if not properly managed. COVID-19 has created the need, and accelerated the move, for more thoughtful and carefully-planned business travel management solutions.
We at TruTrip can customise "COVID-19 ready" business travel management solutions for you, so that you can take these essential business trips with a peace of mind. Here are 4 key areas that make it possible.
Getting your team ready
Business travellers need to know what is required before, during, and after the trip. We recommend setting up pre-travel briefings to assess how ready people are to travel as well as training to prepare your travellers for any travel risks they might encounter before they embark.
We partnered with Riskline, a travel risk intelligence company, to equip you and your business travellers with fully integrated and thorough country briefings that include COVID-19 risk levels, travel disruptions, latest entry and exit requirements, as well as real-time travel alerts of each country. This is important so travellers can have a clearer idea of the extent of the outbreak in other countries, as safety measures and recovery rates might differ from your home country.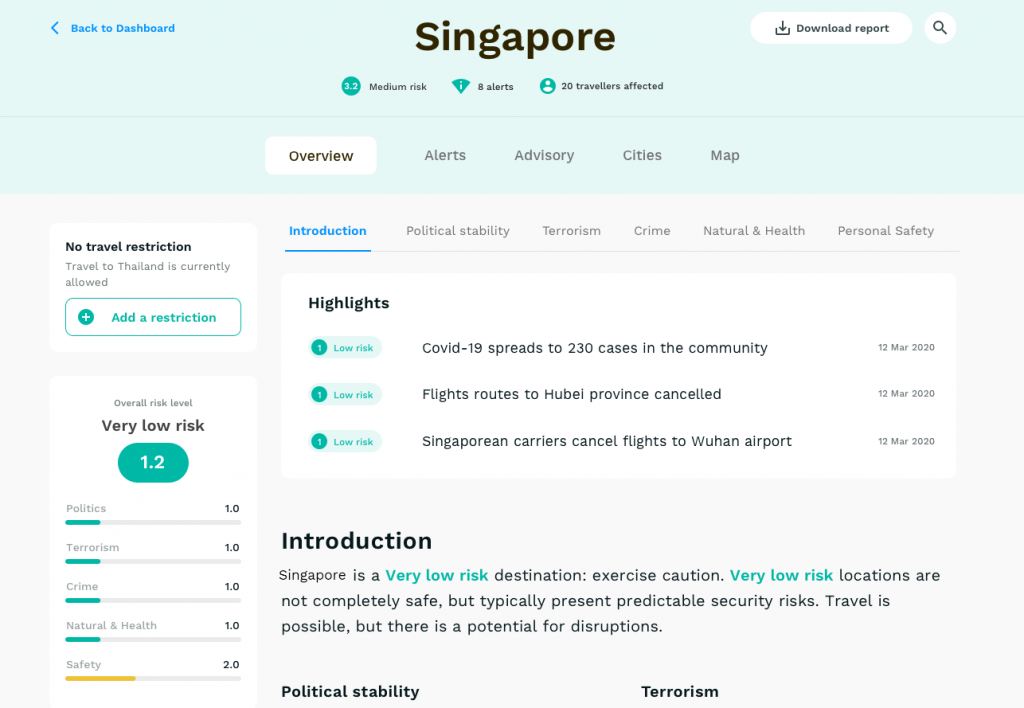 Moving past Online Booking and forward into fully integrated business travel management, our automated Traveller Dashboard brings together traveller location data, Riskline's risk intelligence data, and simple Traveller management tools. This dashboard is your operations centre—giving you constant situational understanding and rapid access to relevant interventions to protect your teams as they travel.
Running operations smoothly
Past crises have taught us that policymaking plays a vital role in ensuring sustainable and smooth operations. With our flexibility and transparent controls, travel managers can create Smart Travel Policies on TruTrip to suit the company's needs.
Recently, China launched its 'green lane' between South Korea on May 1 and Singapore on June 8, allowing travellers to cross borders with minimal or no quarantine. While it's good news, in reality, these lanes are less likely to be smooth-flowing, as policies and procedures regularly keep changing. To help with these changes, we built CovidEntryCheck; a standalone tool for you and your travellers to check and stay updated on the latest travel restrictions. Furthermore, we are automatically integrating all the entry requirements into a Travel Restrictions Policy that ensures bookings do not happen if they do not meet with the latest restrictions. 
Our work doesn't end at bookings. With our Trip Companion, we don't just provide you with booking information, over the next few months we are bringing in the latest risk alerts from Riskline, as well as Real Time Flight Data via Cirium. Travellers are informed of flight disruptions, and will receive updated gate and terminal information. In the event of a significant flight disruption, our Travel Support team is available to work with you and your travellers to help them get to their next destination smoothly.
Protecting from shocks
No matter how many safety measures your company takes, the unexpected could still happen. For a smart and safe business travel management set up, you need to protect both your business and team from unexpected shocks.
Start by implementing consistent health checks and quarantine measures, like systematic COVID-19 testing on your team, centralising employees' health records in one place, or conducting frequent briefings on what to do in an event of a crisis.
Last-minute flight cancellations could also happen, as most governments will execute travel restrictions depending on its country's recovery rate. Our partnership with FWD Insurance brings you flexibility without the airline premium; while our TruFlex offers to make all bookings refundable up to 90% of the original price paid, with cancellations and economic changes up to 24 hours before the flight.
Once again, our Traveller Dashboard will come in handy to help keep track of your team's movements. Its seamless tracking and management interface allows you to assess risk, and react quickly by protecting your team with a single click.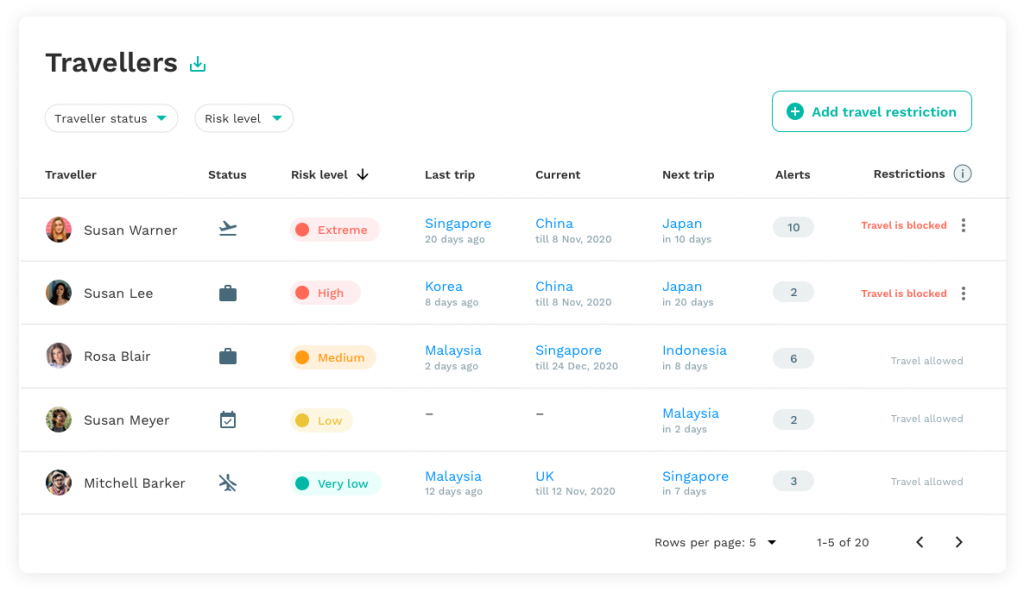 Preparing for the worst
Sometimes, the worst happens. If or when it does, at least you're prepared. Have a conservative backup plan that is constantly ready to evacuate your travellers to safety, at any time.
TruTrip will be bringing in Travel Insurance (including COVID-19 cover) and independent support for Repatriation for the self-insured, should there be any unforeseen circumstances such as riots, sudden disease outbreaks, natural disasters, or other emergencies that require swift evacuation.
Do you think we're missing something?
We are always keen to hear from Travellers and Travel Managers that are looking for something more.  Talk to us here or sign up to Builder's Programme and we'll be excited to work with you to map out on ways to further protect your business travellers now.