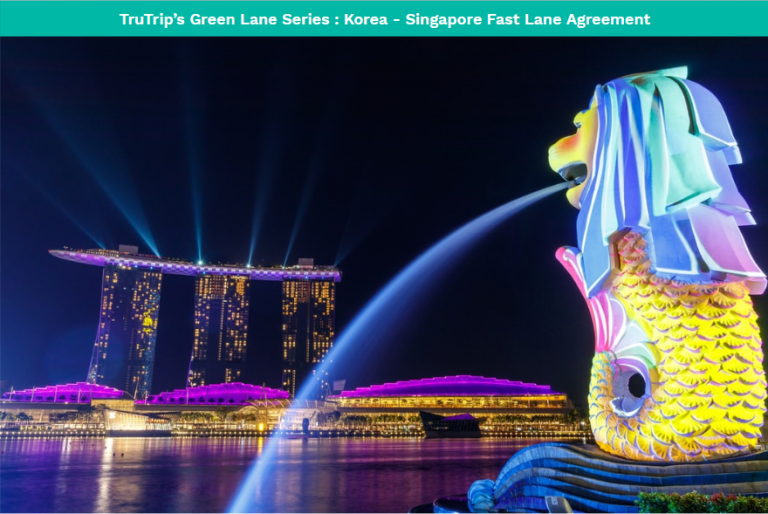 The success to a good Green Lane or Singapore's Fast Lane depends on having the right documents and adhering to the health and safety procedures.
.
Annyeonghaseyo! First, start your business travel plans with research and when it comes to entering through Singapore's Fast Lane, start here >> SafeTravel Pass. It is a mandatory document for inbound travellers from approved Green Lane countries/regions list, seeking to make essential business and official travel to Singapore. Good news! Payment is not required for a Safe Travel Pass application. However, it is not transferable to others.
Then, travellers must enter Singapore within this stipulated duration, and can stay in Singapore for the duration of their Visit Pass that is issued at the immigration checkpoint in Singapore.
Travellers who are granted entry into Singapore are generally issued with a Visit Pass, of which the duration would be aligned to that accorded passport holder prior to the Covid-19 pandemic.
As Reciprocal Green Lane or Fast Lane Arrangements are meant to facilitate short-term essential travel, business travellers must adhere to the stipulated terms and conditions for a successful trip under Singapore's Fast Lane rules.
Do download TraceTogether and SafeEntry apps for contact tracing and health declarations. Which in turn will help to keep both the business travellers and Singapore citizens safe.
.
In the event, if the traveller tests Covid-19 positive and requires healthcare in Singapore, the traveller or Sponsor is liable for the cost of healthcare.
.
Can I travel from Korea into Singapore?
You must be a resident of South Korea in order to enter Singapore for essential business or official travel between both republics. Prior to your departure date, you must remain in Korea for 14 days . 
Before entering Singapore, you must be sponsored by a Singaporean government agency or a company. This means the company must  make the application for the SafeTravel Pass on behalf of the traveller. Applications must be processed 7 to 20 working days prior to the intended departure date. 
You must travel via air and have a valid return ticket. You can only depart from Korea's Incheon International Airport to Singapore.
 
Before you travel, you must take a certified Covid-19 test from designated medical institutions in Korea. This must be done 72 hours before departure and obtain a certificate having tested negative. Please visit www.btsc.or.kr for more information.
 
The approved applicant will have to electronically submit pre-trip health and travel history declarations and declare his/her accommodation in Singapore via the SG Arrival Card, before departing for Singapore. The SG Arrival Card can also be accessed via the Visit Singapore Travel Guide App.
If you do not hold a South Korean passport, but have a long-term residency in Korea, you must obtain a re-entry permit before travelling to Singapore. 
.
7 things you MUST NOT do in Singapore during your stay
You are not allowed to take any public transport. Commute by the same pre-arranged, private transportation.
You must not change accommodation. Only stay at the declared place of accommodation and self-isolate while waiting for any test results.
You must not ignore the itinerary submitted. Follow the approved 14-day controlled itinerary, that is supervised by the host company or government agency.
You should not extend your stay. Any extension must be submitted to ICA for approval at least 7 days prior to the expiry of your Visit Pass.
You can not use any other contact tracing app while in Singapore, except for TraceTogether and SafeEntry
You must not forget your assigned Host. Be ready to report your health status twice a day to an assigned Host.
You should avoid physical contact and follow all safety distancing measures according to the Singapore's government.
.
How to exit Singapore and return to Korea?
Currently, there are no known requirements on medical screening. However, you may be imposed to self-quarantine measures upon your return to Korea.
Specific requirements may change overtime and please verify with the Korean government. Contact the KCDC call center (☎1339 or region code + 120) or public health clinic if you develop a fever or respiratory symptoms (coughing, difficulty breathing, etc.) within 14 days of arrival.
If you are Singaporean based and returning from Korea, you are required to serve a 14-day Stay-Home-Notice at your own accommodation.
.
What must the sponsoring company comply with?
The company is responsible for monitoring and ensuring that the traveller complies with these terms and conditions. The SafeTravel Pass may be revoked, and/or future applications by the Host rejected, if any of the terms and conditions are not complied with.
If there is any deviation in the traveller's Controlled Itinerary, reported or otherwise, the Host shall inform the government agency Sponsor, or the Singapore Ministry of Trade and Industry.
If the traveller is assessed to be a Covid-19 suspect case or confirmed to be COVID-19 positive, the Host shall inform the government agency Sponsor, or MTI at the earliest possible opportunity.
The company is responsible for supervising the traveller's compliance with these terms and conditions, including the use of the TraceTogether app and SafeEntry during the duration of his/her stay. For instance, the company must ensure that the apps remain installed and data retained for at least 14 days after returning from Singapore. 
If the traveller does not have a TraceTogether-compatible device, the company shall be responsible for sourcing said device for the traveller.
In the event of repatriation, the company and the traveller is liable for all costs incurred. 
---
Not sure about Singapore's Fast Lane or looking for business travel solutions?
Contact us to find out more or sign up to TruTrip's limited time only Builder's Programme.
How to know if your business is ready for travel?
Get ready for business travel here.